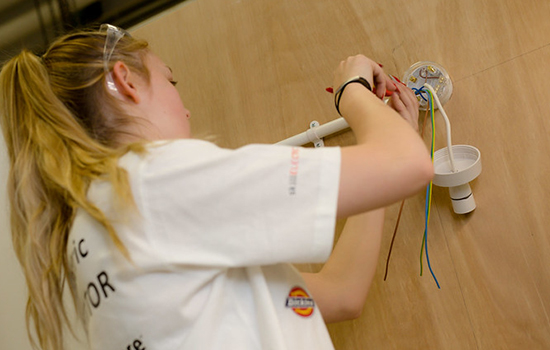 About SkillELECTRIC
SkillELECTRIC is the search for the UK's best young electrician and the premier skills competition for the UK's electrical industry.
Each year, the best electrical students and apprentices from across the UK compete to win a place in the competition's grand final.
Competition stages
1. Register to enter the competition between 28 Feb – 01 April 2022.
2. The first stage involves competitors having to complete an online, timed, interactive task (to take place over an hour slot between 25-26 April). Take a look at our 'What's New for 2022' page to find out more.
3. Only those successful at the online task stage will be invited to compete in a national qualifying heat.
4. Qualifying heats will take place during May and June 2022 – see our Events page for full details.
5. WorldSkills UK quality assure the results and finalists will be notified by August 2022.
6. Finalists will participate in the UK National Final, details TBC.
SkillELECTRIC provides a platform to showcase the best young talent working in the industry and highlight the opportunities that becoming an apprentice electrician provides.
Those who demonstrate exceptional talent also have the chance to represent their country at EuroSkills and WorldSkills events around the globe.
SkillELECTRIC is organised by registered charity NET who, on behalf of the industry, manage and develop the industry assessment of occupational competence. NET is proud to deliver SkillELECTRIC in partnership with WorldSKILLS UK