Judges
Overseeing each event is our panel of dedicated judges – once the competition task is complete they carefully assess and mark each piece of work against a strict and objective criteria.
Can you share your skills and expertise? 
In order to boost its pool of competition judges, SkillELECTRIC is always looking for those across the electrical industry who are happy to volunteer their time for a few days each year to judge competitors at regional heats and the national final. Contact us for more details.
Click on a photo below to read more about our judges…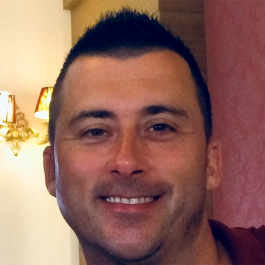 Can you give us an overview of your career to date?
"I started my Electrical Apprenticeship in 1997 and I became a fully qualified electrician in 2001. I started being the lead electrician on reasonably sized commercial jobs as soon as I was qualified. I became an Approved Electrician two years later in 2003 and started being the Electrical Supervisor on larger scale commercial jobs such as new primary Schools, Police Stations, hospitals etc. I joined SECTT as a Training Officer in May 2009, progressed to Enhanced Training Officer in 2018, before taking up the position as Senior Training Officer earlier this year.
"SECTT manage the Electrical Apprenticeship Scheme across the whole of Scotland. In my current role, I assist our Training & Development Manager across a range of areas such as SVQ coursework development and delivery, Skills Development Scotland compliance and managing of our 13 Training Officers."
What do you enjoy the most about SkillELECTRIC and your role as a judge?
"I first visited the competition nine years ago when one of my apprentices qualified for the finals. During this first visit, I was very impressed by the scale of the competition and the quality of work each of the finalists were producing, considering it was a fairly challenging competition piece. When I was asked by NET five years ago to be a judge I was delighted. The quality of work produced by the competitors is exceptional and to be part of the judging team is a great experience. I also enjoy getting to know each of the competitors and get to hear of their work experiences so far at this stage of their career and what their plans are for the future."
Craig Johnston
SECTT
Senior Training Officer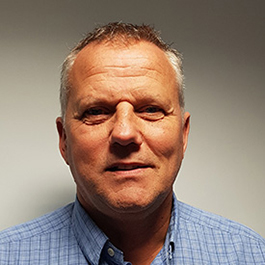 Can you give us an overview of your career to date?
"From leaving school in 1980 I undertook a mechanical engineering apprenticeship before undertaking a position at T.I Tubes, where I undertook an Electrical NVQ. Throughout the '90s I worked for a medium-size electrical company on a range of large installations and progressed to Electrical Supervisor and QA before moving into a facilities role for a major hotel and motorway service company. In 2001 I started teaching at Leicester College where I progressed to the Programme Area Manager of the Electrical Department and in 2022 joined Scolmore as Technical Engagement Engineer. I have written published materials for Cengage, Nelson Thorne, Sparks and Voltimum. I am an active member of the Electrical National forum."
What do you enjoy the most about SkillELECTRIC and your role as a judge?
"I first visited the competition in 2006 where Leicester College won the Regional heat. During this time I was impressed with the scale of the competition and the quality of the candidates work at national level. SkillELECTRIC is set to a very high standard which clearly challenges the individuals.
I am passionate about promoting the electrical industry and value trade competitions which offer enrichment and opportunities for students, the competition create opportunities to learn from industry experts and I see this as a natural progression to use my skills set as the highest level of training and education. Working alongside similar qualified and experience peers provides the ideal opportunity for continuous professional development for myself; development which I can use to enhance the learner experience and help to develop future WorldSkills competitors.
"Since joining Scolmore in 2022 in the Technical Engagement Team we are proud to support the development of all electricians."
Neil McManus
Scolmore Group
Technical Engagement Engineer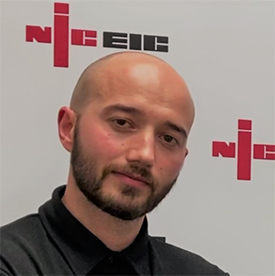 Can you give us an overview of your career to date?
"I am apprentice-trained and have 20 years' experience in the electrical industry. I have worked and managed residential, commercial, and industrial projects in the public and private sectors. In 2013 I accepted a lecturing post at Coleg Cambria, one of the largest colleges in the UK where I eventually became Curriculum Lead for Building Services.
Moving onto my current role, I joined the NICEIC in 2021 as Technical Training Developer. The NICEIC is the UK's largest voluntary register of electrical businesses. We certify over 38,000 businesses assessing them to ensure the installation work they undertake meets the required technical and safety standards. In this position I am responsible for the development and review of NICEIC's industry-leading training."
What do you enjoy the most about SkillELECTRIC and your role as a judge?
"Having mentored several students through the process, I have witnessed first-hand how competitions can not only help a learner develop technically but also on a personal level. I have seen a student's journey from competing at a local level through to Team UK and competing on the world stage. SkillELECTRIC provides competitors with experiences and opportunities they would not ordinarily have, and it is amazing to see how a young persons' career and future can be enhanced by getting involved with SkillELECTRIC. I feel that this insight into the journey makes me well placed to support competitors through the judging process and onto the final."
Alex Robinson MIET
NICEIC
Technical Training Developer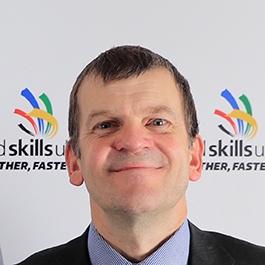 Can you give us a career summary to date?
"My Career started with an electrical apprenticeship with Midlands Electricity Board where I was exposed to a vast variety of Electrical work. I then moved into Training and as Head of Training for one of the leading electrical contractors, I enhanced my skills and also was able to pass on my skills to others joining or working in the industry. Working now for NET which looks after the industry end point assessments and develops new assessments for the electrical industry.
My experience covers a wide range of electrical systems and also working on high security sites with unique challenges. I have sat on a wide range of groups looking at qualifications and also sit on the group looking after the current wiring regulations.
At NET I have responsibility for the development of End Point Assessments for the Electrical Industry and monitoring the centres that deliver these assessments."
What are you most looking forward to about the event?
"For me being involved with SkillELECTRIC allows me to watch candidates develop through the heats and the final and hopefully move on to represent their country at a world class level. It also provides an opportunity to share my industry experiences with the candidates and also those visiting wishing to enter the industry. Hopefully inspiring others to move forward in an industry that provides a wide range of opportunities for all that wish to follow this career path."
Jon Dicken
NET
Technical Development and Systems Manager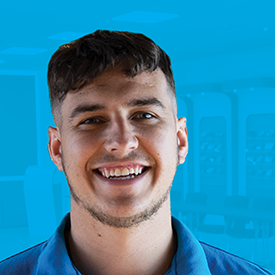 Can you give us an overview of your career to date?
"During my 14 years within the electrical industry, I have experienced the vast majority of works, including installation, maintenance and testing on the contracting side – providing me with a thorough grounding and understanding of all aspects of the industry. I have undertaken numerous public speaking roles discussing industry regulations and installation solutions at various large scale events with end users/ contractors. My role with market-leading manufacturer, Scolmore Group, is allowing me to further develop my current skillset to meet the demands of this fast-paced industry.
I currently lead all technical documentation and data that leaves the Scolmore Group. Heading up all technical webinars and events from a product and standards perspective. My role also captures the company's technical helpline, our own bespoke training system for internal staff, data control and technical output across multi-channel platforms."
What do you more enjoy about your role as a SkillELECTRIC judge?
"At each event I look forward to engaging with the next generation of potential electricians and understanding the challenges they are faced with, along with the needs of each individual. I hope that I will be able to assist with their learning development, giving them the confidence within the industry. I'm keen to share my knowledge and experiences through SkillELECTRIC and demonstrate the range of opportunities and potential specialised avenues the industry can provide."
Jake Green
Scolmore Group
Head of Technical Engagement